Model #:AE10
St. Nick Costume
You better watch out, You better not cry, You better not pout I'm telling you why. Santa Clause is coming to town!
Includes: Red plush faux fur coat and hat with white plush trim, matching red elastic waist pants, and black belt and boot tops with white plush trim. Coat features zipper front closure
Available size:
Also available: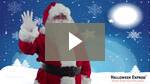 Looking for ideas on how to complete your Santa Claus Costume this Holiday season? Check out this instructional video to see how a professional makeup artist applies the finishing touches to her perfect Santa Claus Look. For step-by-step directions,
click here
.
Note: Wig and beard not included