Model #:AE04
Deluxe Santa Suit Adult Costume
Christmas Wouldn't Be The Same Without Santa Claus and his helpful elves!
Costume includes: Red plush faux fur coat and hat with thick white plush trim, matching red elastic waist pants with side pockets, white nylon gloves, and black vinyl belt and boot tops with white plush trim. Coat features zipper front closure and inside pocket. This suit is made of a bright red deluxe pile plush with luxurious, white long fake fur plush trim and completely satin lined.

Available sizes:
Standard (40-48)
Extra Large(50-54)
Extra Extra Large (58-60)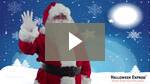 Looking to complete your Santa Claus Costume this Holiday season? Check out this instructional video to see how a professional makeup artist creates the perfect Santa Claus by using this Deluxe Santa Suit. For step-by-step directions,
click here
.
Don't forget the Santa Belly stuffing that you can shake like a "bowl full of jelly", wig, beard, and a toy bag that are sold separately.