Model #:RU2365
Flannel Santa Suit Adult Costume
Santa Claus is also known as Father Christmas, Saint Nicholas, Kris Kringle, Good Ol' Saint Nick, or Jolly Old Saint Nick.
This Colorfast flannel Santa costume includes: a Santa hat, wig & beard set, fur trimmed jacket with belt loops, pants with pockets, belt and boot tops.
Available size:
One size only fits up to a men's size 40 - 48 jacket.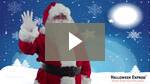 Looking for ideas on how to complete your Flannel Santa Claus Costume this Holiday season? The right makeup can go a long way in creating a memorable St. Nick! Watch this instructional video to see how a professional makeup artist applies the finishing touches to her perfect Santa Claus Look. For step-by-step directions,
click here
.
Don't forget the Santa Belly stuffing that you can shake like a "bowl full of jelly"!
White costume gloves not included.