Model #:RU2392
Imperial Santa Claus Suit
Celebrate the Holiday Season!
This Imperial Lux-Seal Santa suit trimmed in thick white fox-like fur fabric includes: Santa hat, jacket with zipper front closure, pants, belt with 3''x5'' buckle, and fur trimmed boot tops.
Available Sizes:
Standard size fits up to 48 jacket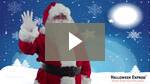 Trying to figure out ways to complete your Imperial Santa Suit this Holiday season? Add quality makeup to increase the Christmas cheer! Check out this instructional video to see how a professional makeup artist applies the finishing touches to her perfect Santa Claus Look. For step-by-step directions,
click here
.
Don't forget the Santa Belly stuffing that you can shake like a "bowl full of jelly"!
Note: White costume gloves, wig & beard set, and a toy bag are not included.
This item does not qualify for Free Shipping. It can only be shipped via ground to street addresses in the continental United States. Contact us for faster shipping options or delivery pricing outside the continental United States.