Model #:DG25946
Power Ranger Pink Deluxe Adult Costume
It's Morphin Time!
Costume includes: Dress with attached belt, buckle, glovettes and character goggles. Materials: Polyester and Spandex.
Available Sizes:
Small 4-6
Medium 8-10
Large 12-14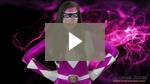 Looking to create a Cute Pink Power Ranger Look this Halloween season? Take a look at this instructional video to see how a professional makeup artist applies the finishing touches to her girly look. For step-by-step directions on how you can complete this Mighty Feminine Power Ranger,
click here
.
Boots are not included.