Model #:IC5011
Witch Plus Size Costume
Don't go west!
Costume Includes: Full length gown, tulle petticoat, hat with tulle sash and stick-on black fingernails
Available Sizes:
Also available: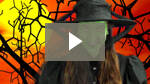 Want to see how you can complete the ideal Witch look by using this Witch Costume? Watch this video to see how you can accomplish just that! For written step-by-step instructions on how to create this Wicked Witch of the West look,
click here
.
Packaged in a full length zippered garment bag with color photo insert.